Everything you need to know about Kaki King so you can act like you knew the whole time – Part 1:
Sound: Everything from Acoustic Guitar/Bass playing, Lap Steel Looping, Shoegaze, Multi-Instrumental sh*t to full on Indie Rock with Edge.
Albums: Everybody Loves You (2003); Legs to Make us Longer (2004); Until We Felt Red (2006); Dreaming of Revenge (2008); Mexican Teenagers EP (2009); Junior (4.13.2010)
Why?
Geez. Iont even know where to begin with this one.
Good Person. Great Musician. Better Friend.
To watch the evolution of such a unique talent develop over the last 8 years has been a blessing, joy, and absolute music nerd WIN. And it only gets better as time goes on.
It started with a girl wilding out on her guitar, Michael Hedges style,  and has evolved into an 'apperances on August Rush making, foo fighters featured, into the wild soundtrack making, Tegan and Sara cameo having, twilight soundtrack composing, secretly making songs with Timbaland for Miley Cyrus to sing over' ball of amazing, frankly.
Over the years as she has gained in popularity, more people ask me about her music, and how she got to where she is today. I'll have to break this down into two parts for you, but this will be my attempt to show you how she got from Point A to Point B.
The guitar was never just a guitar for Kaki. Even from the beginning. Somewhere in the process of learning guitar at the age of 3, then transitioning to the drums at 5, then going back to guitar later in her childhood… she figured out that guitar had a special feature that is very hard to find with other instruments… the ability to create percussion while playing the instrument itself. And at some point, she decided she was going to get REALLY good at.
She then began to master her chords and fingering while messing around with her fathers collection of guitars, and learning notation and music while rummaging through his music book library, which contained things like the Beatles songbook, Fleetwood Mac. As she got older, she started looking totake on edgier bands like The Smiths and Graham Coxon with Blur. But It wasn't until Kaki found the kings of the finger style where things began to change. Leo Kottke, Preston Reed and the Late Michael Hedges changed her perceptions of what the guitar could be.

Even though guitar was always around, Kaki was convinced at that point that the only way that she would get on in the music industry was through her drumming skills.  But after suffering through the massive disillusion that is College, and being in Manhattan on 9/11… her ideals began to shift, as well as her priorities. Kaki started getting more gigs via her guitar skills. When she wasnt playing sets or in different bands, she was all through the tunnels of the underground world that is the New York Subway System, going hard on practicing and perfecting her finger style and percussion techniques. After being bugged by several people to make some kind of record, Kaki released her first demo  (with classics like "Tunnel" on there)… and thats where everything began.

It wasnt long until Jeff Krasno, executive at Velour Records ran across Kaki… which led to her being signed, and her first official label release, Everybody Loves You.
It seems from the get go, that there was a buzz on Kaki. Even before her first album ever hit the streets. At least there was a buzz among the music nerds of the world, hyped to hear of this 4'9 guitar prodigy wonder who, at this point, was taking acoustic guitar to a new level. Velour was pushing this woman hard, and with good reason…. at this point, it was becoming clear that her style was unmatched. Youtube links and music on her was scare in those days, but from what I was able to pull together, I was intrigued. Wacky song titles like "Close Your Eyes and You'll Burst Into Flames," and songs like "Carmine Street" and wacky titles like "Happy as a Dead Pig in the Sunshine" had me captivated from the get go.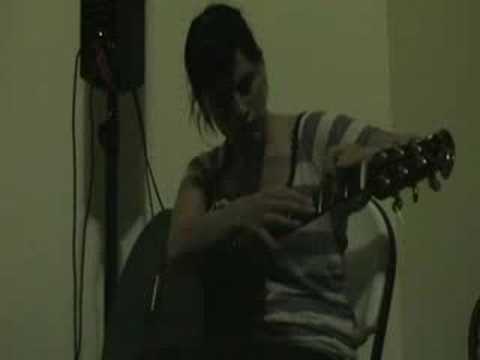 But the biggest draw for me (and most classical/acoustic guitar nerds) was the musical complexities behind what she was playing. You have to be pretty dorky to know all of this, but the style and format that Kaki plays in is incredibly unique…. From her use of "tapping" and "hammer on"  techniques, down to the way she tunes her guitar in order to execute the amazing feat of using each one of her fingers on BOTH HANDS to build amazingly detailed melodies. (Cello tunings fam? whos using cello tunings on a GUITAR? who even KNOWS how to do that?)  She seems to combine the styles of several different artists and techniques to form her own new way of playing. You can see the influence of her years of drumming in everything she does.  But it wasnt until her landmark performance on Conan O'Brien (click that link!) when it actually hit me. I quickly made plans to see her live, as soon as I could.
Now I was wondering how entertaining her show would be… for the most part, when you think acoustic performances, you're thinking of the typical, boring shows where no one is allowed to speak or have a good time. I should have known nothing about this kid is typical. She did not disappoint at all. As a matter of fact, she doesn't fail much live at all. You will more than likely have a good time at a Kaki King Concert. An amazing musician, her goal is to wow the audience with technical precision every time… and she always does. Shes also very engaging during and after her shows, she will answer (well thought out) questions  and engage in discussion for the most part. Basically, shes worth the $30 bucks it takes to go see her live.
From here, we'll get into the second and third albums…. but we are going to stop here, as to not overload your brain. LOL. Stick around for part 2; coming on wednesday.