MegaRan is Awesome. His interview with Music Nerdery proves it.
As a music nerd, there are several things in this life that make me incredibly happy. Mostly, anything regarding music. However, there are those times when your heart swells with pride when you know witness someone you've known for a while get the recognition they deserve. Nothing better than watching your hard working, honest, genuinely talented friends get on, and when they do… I'll be the main one behind them cheering and asking for the interview. This is where you sit with Mega Ran (aka Random) and myself as we nerd it up over some awesome questions and get to know him and his music a bit more.
______
MN: Thanks again for sitting down and sharing your time with me.
 For everyone who doesn't know, lets start with the basics. Whats your full name, and tell us a bit about where you were born and raised.
(Mega)Random: I am Raheem Jarbo, aka Random, or in some circles, Mega Ran. I was born and raised in Philadelphia (please no "Fresh Prince of Bel-Air" jokes) and relocated to Phoenix in 2006.
MN: Philly boy? Nice. So what was the music you remember growing up with? Can you name off some hip hop albums that were influential in making you who you are?
(Mega)Random: I'd say that soul music is just as big a part of me as hip-hop, because it was always present in my house growing up. I always say hands down that the man who influenced me to rap was LL Cool J. It started with seeing him standing on the top of the car on "Bigger and Deffer." That larger-than-life persona was what inspired me to write rhymes, but I never thought I had the personality to be a boastful, LL-type… but then I saw something on that album, and that was versatility. Here was this super cool, fly guy, getting downright sappy on "I Need Love." This was what showed me  just what hip-hop could be.
MN: Good example. So me and you go way back (via the internets) in a sense. I can literally remember the day this whole rap thing started… the day when Teaching wasnt an option anymore (sad times, who cuts teachers?) and music became your full time occupation. You even have a whole tag dedicated to it on your site (life after lesson plans). Can you get into that transition from Teacher to Talented Rapper?
(Mega)Random: Yeah, you were there when it all started. In 2009, I got let go from my teaching position out here, and was pretty much forced to make a tough decision. I'd grown tired of the politics in the teaching profession, but what kind of grown man with responsibilities quits a job? I wasn't happy, but I was simply holding on because I had nothing else. I got invited into the office after school on a Monday, and I was cruelly laid off due to budget cuts. I hit the road with Mr. Miranda for what would become "The Back To the Future Tour," my first self-set-up tour. It went really well and encouraged me that maybe I could survive as a full-time musician…so the seed was planted. I wasn't ready to make that move until some crazy things started happening. In 2011, one of my albums, "Black Materia," a record retelling the story of one of my favorite games, Final Fantasy VII, was selling extremely well, better and faster than anything else I had done.  In fact, it placed in the top 25 on Amazon and iTunes, and stayed there for a while. I have to thank a site that I'd never heard of, but now has become part of my daily internet fix, Reddit. When I hit the front page there, it was a wrap. I told myself that if we hit a certain number of sales, then I would resign from teaching. We got close, but I said, eff it, and still quit my job.
That led to me deciding to do a 'season' of a hip hop reality show called "Life After Lesson Plans," which you can find by clicking here.
In it, I would chronicle the life of a teacher-turned rapper and what I do in my everyday life. At the end, fittingly, I got an amazing offer to tour with mc chris and MC Lars. 44 dates in 53 days. Needless to say, I did it, and had a blast, and learned so much. I now have no doubt that this is what I was meant to do. It's a wild ride, and you never know what to expect from one day to the next, but that's kinda what I like about it.
I can't say I'd never go back to work, but I sure don't know any other career that's this rewarding. I'll stay here as long as they'll have me.
 The Story (Thieves in the Night) by Mega Ran

MN: Wow. It seems like the transition worked out for you. Now lets go before that. Can you remember the day when you decided music was going to be more than a hobby for you? That point where you knew that hip hop would probably be your career, or at least a major part of your life. Was it before or after the teaching?
(Mega)Random: I can't say that before 2007, I ever thought I'd be more than a part-time rapper. And the story of a "teacher by day, rapper by night" was very cool to me, though it was hard work. I knew when I played South by Southwest the first time, in 2008, that I'd had something viable. After that, K-Murdock and I hooked up, a fellow full time musician, and I would meet more and more people who were not only living the dream, but encouraging me to live the dream. I'd be teaching well before that happened, so I do believe that education isn't done with me yet.
MN: You have the market cornered on a special type of Hip Hop that involves dope lyrics over some of the most creative flips of Nintendo, Atari and other 8 bit glory I've ever heard. Matter of fact, it should be noted that you really are one of the first to delve (successfully) into this awesome kind of hip hop. So where did the clever idea of rappin over everything that is awesome about Nintendo come from?
(Mega)Random: Thank you! I definitely wasn't the first to rap over video game samples, but I made a point to scour the internet looking far and wide for anyone who does anything close to what I do, and I haven't found them. I'm in an interesting place, somewhere between backpack, nerdcore rappers and video game cover bands.It's good and bad to be the first doing something… good because its a cool new novel thing that makes the press want to cover you (sorry E, haha), and puts you into some uncharted territory, like video game magazines and the like, but it can be bad because people don't know what do with you…. they want to pigeonhole and downplay what I do, and that's unfair and, even some ways, disrespectful. For that reason, I'm more likely to be in Wired magazine than XXL.. but that's alright. it's fun.
I think I got the idea after my first album "The Call." It was very political and spiritual, and I felt like the album had emotionally and physically drained me to put together. I needed a chance to recharge my batteries, so I sat the mic down and started playing video games. That was the spark. Once I went back and played those retro games again, I thought, let me try this out.. and it worked…well.
MN: You don't have to apologize to me, I am SO not "The Press." (laughs) So on top of your 8-Bit awesome, you also dropped the amazing "MegaRan 10″ Project back on 11.11.11: Can you talk about how that project came together? Possibly your favorite moments on the albums?
(Mega)Random: In 2010, Capcom released a game called "Mega Man 10." Instantly I was asked about an album on it. The album I started, "Mega Ran 10," was about 2 years in the making, because I started making songs as soon as the soundtrack came out, just for fun. Later, I would continue to make more and more songs, and then I was close to an album's worth of stuff. So, I decided to get with K-Murdock and work on some more songs, and decide that we would make the date 11.11.11 a special one, and drop the album. We were in London at the time, and during some downtime, I challenged K, Lost Perception and DN3 to each sent me a banger, and those were the final pieces of the puzzle which helped us to create a special album. That time led to some of my favorite creations, "Now Hiring," "The Day The Robots Took Over," and "Lookin Up," Which we just shot a video for. Mega Ran fans might not be happy to know that it's my final album in that style, but I'm ready to move on to a new challenge for 2012 and beyond.
MN: You also have an adorable little Christmas mixtape out right now that seriously has me doing the wop while decorating the christmas tree. I'm so in love with Snow Business right now… that sample of The Little Drummer Boy is blowing my mind. Theres all kindsa Peanuts Music on there… can you talk about this amazing project?
(Mega)Random: Thank you! That idea came about this Fall on the road with K-Murdock. All the driving we did from state to state gave us a lot of time to talk and think. I didn't write much, but I thought about an amazing idea to use my favorite Christmas album "A Charlie Brown Christmas" by Vince Guaraldi, and add some rap music to it. DN3 made all the beats, I recorded the vocals while in Philly on vacation. We created the album in a week with the homie Haj of Dumhi, and I'm really proud of how it came out. It's available for free or donation at MegaRanMusic.com.
MN: Well thank you for that, as it makes me hate Christmas a bit less. Tell us a bit about this trip to Japan and this tour. I don't think this is your first time there, but if it is… tell us ALL about the glory.
(Mega)Random: Yes, it was my first time there. I spent a lot of Yen, that's for sure! there's just so much to see there.. it's unreal. Myself, K-Murdock, Marcus D and Substantial went after Stan's brilliant crazy idea to bring fans really worked out. we went out there with 7 strangers and left as best friends. Such great times out there. We saw so much history, so much pride… plenty of good food too. They were very friendly, and I'm like a history buff, so seeing the castles and pictures that I had only seen in books really brought the nerd out of me. We wanted to get out there to show some love to the place that we've gotten so much inspiration from, and we did. I feel really good about that, and can't wait to get back out there and do it all again. If you're interested, get down at www.morebarktour.com
MN: Wish I could have went with you. Their culture seems amazing. Since were speaking of tours and I am a huge concert nerd, why dont you tell us about the funnest concert experience youve ever had.
(Mega)Random: All of my concert experiences are fun, especially during the freestyle portion, where literally anything can happen. Over the last few years, I had a lady hold up a jar of weed, and subsequently get arrested, and a lady take off her bra and hand it to me in the middle of the performance. if anything could take my mind off the task at hand, its that.  Fun times!
MN: Waow. Titties and Weed. Can't go wrong with those. Most of the time. (Chuckles) So after all my nerdy questions, just one more for you. I would love for you to tell us more about this Mr. Miranda Project. I ran across his bandcamp a few months ago and I was impressed. How did you guys even find each other? The internet is great.
(Mega)Random: Last and certainly not least! December will be all about The Memorandum, a joint album I'm releasing with my homie Mr. Miranda. Since I'm Random and he's Miranda, we decided to call ourselves "Mirandom." We both live in Phoenix, and he was one of the first MCs I met out here. We developed a lot of chemistry from doing shows and hitting the road together, so eventually we decided to work on an album together. The album's been done for quite some time, but we'll be dropping it December 20th after a last promo blitz, now that I'm in town. We'll be touring and shooting a few more videos throughout 2012 for this one. It's a perfect ending to my year, because it's a return to the Random steez that some people may be used to, and thought. Storytelling, humor, and good ol' fashioned hip hop, check out the first video, "Wednesday."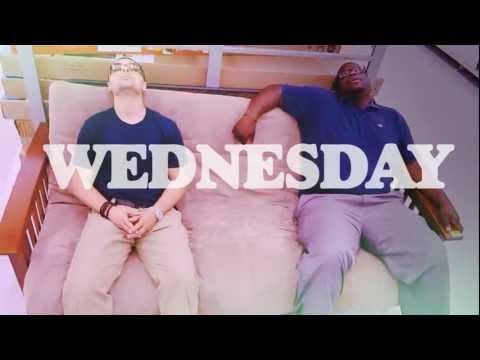 that's a good idea of how the album will be, a lot of fun, honest times. I've never been good at sharing, as an only child, but with this album, it's been a great experience having someone else in the sessions to bounce ideas off of. The funny thing is that as soon as we wrapped up the album, I got ideas for a follow-up, and that almost never happens.
MN: I've already got the streaming link and it sounds glorious. Good luck with the new project.
Now its time for Fun and Pointless Question Time! Name off your favorite Video Games of all time.
(Mega)Random: I'd have to break them down into categories..
Platformer: Super Mario 3
Sports: NFL 2K5 or Tecmo Super Bowl
Shooter: Halo 1 or Battlefield 2
Strategy/Puzzle: Tetris
Role Playing Game: Final Fantasy VII
Action/Adventure: Metal Gear Solid or Zelda: A Link To The Past
NM: Heads Up: You aint seein me in Tetris, Mario 3 OR Streetfighter, just so you know. Well, that was awesome. Thanks again for all your time.
Mega: Thank you.
________
Welp, just another musician who reminds me why Hip Hop is so amazing. Really lucky to have him come through with this interview. Thanks again.
Meanwhile, make sure you check out his twitter, full bandcamp page and his personal website by clicking on all those awesome links you see there, and enjoy.