Concerts | Video: Lianne La Havas Live at Bootleg Theatre Los Angeles, May 22nd 2012. [With a surprise appearance from Stevie Wonder].
I know I probably say this a lot, but the other night was, in short, everything you want a night to be when you go out in Los Angeles; everything you need and hope for as a music nerd in life as
a whole. The night was already a solid victory early on, as my girl L and I hopped in the car around 7 and swooped down to Turntable Lab LA off Fairfax and Melrose to spend some quality time with House Shoes, who was celebrating the release of his brand new limited edition vinyl single The Time. Running into J-Rocc and DJ Jedi while picking up my copy of the EP, it was also great to see Jimetta Rose drop by to sing her lovely hook on the new song Castles [tHE SKY IS OURS]. Supporting my people and picking up some new Amy Winehouse vinyl would have been enough for a great night, but from there… it just seemly got better.
Running a little late from drinking free beer and jamming with House Shoes, Loryn and I hopped in the zipcar and headed down Beverly boulevard to the Bootleg theatre for our next venture of the evening: seeing Lianne La Havas play her second major show in Los Angeles. Going from her previous show at The Hotel Cafe about a year ago, I assumed that the turnout would be moderate and getting in wouldn't be a problem. Welp, never assume anything, kids. For some reason, Bootleg had the will-call line on hold, causing a major line outside the door and up the ENTIRE block (sometimes they do this just to make the club look important. Hope that wasn't the case this time around). This was a hell of a sight to
see for someone who was around for that first small show that would later become the material for her Live In LA EP. Crazy, but incredibly happy for her and the diverse turnout she pulled. We parked the car, hit up the line and started our wait.
Things were a bit slow at the door which caused us to miss the opening act (sorry, Ferraby Lionheart)… and the first few minutes of her show. We worked our way up to the front (short people privilege only) and found a nice spot off to her right to take tons of photos, videos, and to simply bask in the glory of this talented little lady. Here I was, singing along to every word this little lady has written up until this point, and she hasn't even released her first album yet. It seemed as if the sentiment was the same amongst the concert-goers, who were cheery, friendly, and absolutely enthralled by Lianne's stage presence. The entire vibe of the theatre was just… positive and happy to be there. Simply amazing. Out of the wonderful setlist you see just left and above you, I could have sworn I recorded Au Cinema and Forget, but the camera I was working on seems to feel different. I was able to get wonderful footage on Tease Me and 97% of her He Loves Me cover. I should have recorded more, I know… but I was too busy enjoying the moment. In live format, this girl is even more mesmerizing than I remember. Been a while since I've been to such a nice concert with such nice sound, made even nicer by the improvements and expansions Bootleg Theatre has made to their venue.
But geez… the amazing show, random shoutouts through the set and general fun times weren't even the best part of the night. After searching for a merchandise booth anywhere in the venue (I later found out it wasn't available due to their merch box being held up at customs, dammit), we started our search for Lianne, who usually does Meet and Greets after the show. I just wanted to indulge my concert nerdery and say hi to her if I could, let her know in person how awesome she is and possibly give her a hug (I am a total hugger). Finding her on the back deck with her bandmates and some friends, there was a long line formed around her and commotion in the back corner of the deck I couldn't quite sort out, aside from the large amounts of bodyguards surrounding the mystery person taking up Lianne's time.
On closer inspection and general nosiness, it turns out the person in question was Stevie (OH MY GAWD) Wonder, who had attended the show and was now spending quality time talking with Lianne, praising her performance that night. After internalizing my spazzout and expressing it only on twitter to stay cool, I assumed my position in line to meet Lianne, who was attempting wrap up her time with Stevie in order to address the fans who were still waiting for her. After finishing up with the rest of her bandmates and Bootleg staff, Lianne turned to the waiting fans and apologized graciously for making everyone wait. "Understandable," I replied, "since you know, that is Stevie Wonder chillin in the corner." After drawing laughs from the kids in line and a cute chuckle from Lianne herself, she looked directly at me and says "I know you from somewhere…" which INSTANTLY spawned an awesome side conversation of musical business and nerdery. After letting her know exactly where she knew me from, Lianne shouts out *British accent style* "Oh! Oh my Gosh! You are Ericka Simone!" and then proceeded to give me the hug of life. She continues with "you've been a fan since day one, THANK YOU so much… you don't know how much I appreciate you…." before hitting me with the European triple kisses on each cheek. Teehee. Flawless victory; filed under great moments in E's nerdy life. After chatting a bit
more on business and how much I love her, I snapped my obligatory fangirl photos, gave her hugs, blessings and congrats on the Stevie Wonder love and headed to the parking lot  to get ZipCar back on time and head home. Not before doing the celebratory "HELL YEAH I DID THAT" dance somewhere along the way. Thanks again Loryn, for allowing me to geek out on you like that. And give you several heart attacks that night.
It was just a win of night. Those classic Los Angeles days that every music nerd dreams of. Great concerts, bonding and hanging with friends you haven't seen in a while, vinyl purchases, your favorite singer knows who you are before you get there (praise you Facebook/Internets), and you're in the presence of a musical legend like Stevie Wonder. Best $10 concert ticket I've purchased in a while (oh shit Loryn, I owe you $10). I can retire and relax for a minute. Shoutout to Loryn for indulging my inner fanboy, and hello to my new bestest friends Shy and Kelsey. We will talk UCLA Jazz/Reggae fest VERY soon.
For now, forgive my rambling and please enjoy the tons of footage below.
Tease Me: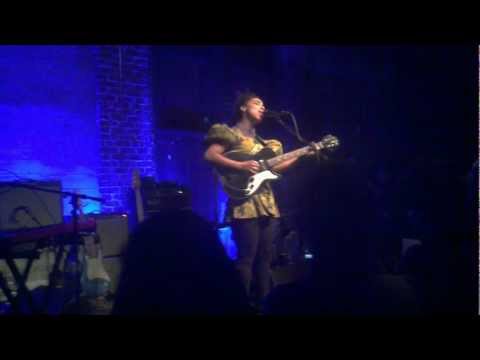 He Loves Me (Lyzel in E Flat) [Jill Scott Cover]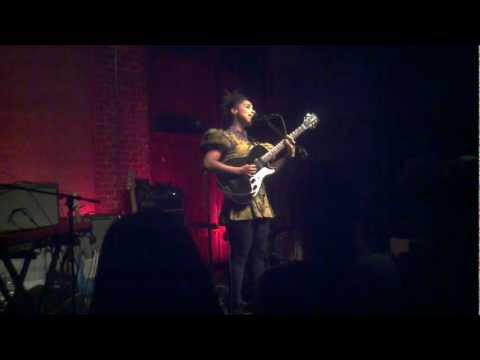 …and watch her NEWEST video (because she stays on the grind, obviously) for Is Your Love Big Enough.